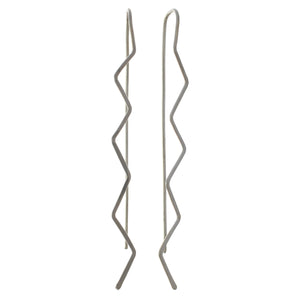 These earrings trace a playful zig zag line, reminding us that while the path ahead is rarely straightforward, the joy is often in the detours. Each sterling silver earring measures approximately 2 1/4" long, and is balanced with a roughly 2" long ear wire.
The zig zag earrings are made to order. Please allow two to three business days for production.
The ligne collection is inspired by the hand drawn line. Think of each piece in the collection as a wearable line drawing, sketched in precious metal.